Back to Tax Allocation Districts
Getting Your Bearings

About The Perry Bolton TAD
Redevelopment of the Perry Homes public housing development has already begun to transform this area once filled with derelict properties and old apartments into a vibrant, mixed-use, mixed-income community.
West Highlands at Heman E. Perry Boulevard includes over 650 new single family homes, 700 apartments, a PATH multi-use trail and new parks and greenspace. The TAD will also provide the stimulus for development of new retail and service businesses in an underserved area as well as funding for implementation of the Bolton/Marietta LCI plan, the Hollywood Road vision and plan, and other corridor improvements.
Improved transportation and related infrastructure, neighborhood-serving retail and other pedestrian-friendly enhancements will attract community-building investments and new development.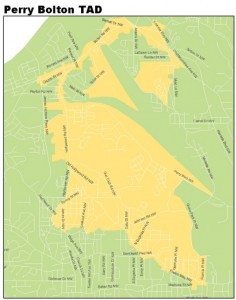 Perry Bolton TAD Development Objectives
The goal of the Northwest Atlanta Redevelopment Plan and Perry/Bolton Tax Allocation District is to:
Attract private investment to help finance a key mixed income, mixed-use residential development designed as a traditional neighborhood development (TND) that will serve as a catalyst for additional private commercial and residential investments in Northwest Atlanta.
Spur new construction that will create hundreds of new housing units, creating quality of life improvements in an area formerly passed over for development.
Increase the tax digest for Atlanta and Fulton County, allowing the City and County to offer more services that will improve economic environment for all area residents.
Making It Happen In The Perry Bolton TAD