Back to Tax Allocation Districts
Getting Your Bearings

About The Princeton Lakes TAD
The TAD has facilitated the development of a 400-acre pedestrian-friendly, mixed-use project by providing funding to address various challenges presented by the property. These challenges included: steep-sloped topography, location within a 100-year flood plain, and a lack of infrastructure.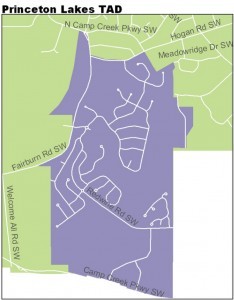 Princeton Lakes TAD Development Objectives
The goals of the TAD are:
To make possible the development of more than 400 acres of difficult-todevelop real estate in Southwest Atlanta, south of the Greenbriar Mall area, north of Camp Creek Parkway and west of I-285.
To make possible the redevelopment of underused parcels, changing them into a cluster of pedestrian-friendly, mixed-use commercial, retail, residential and public use projects in a green setting that will have the greatest chance of success and the longest-term impact on revitalizing the area.
To attract new residents at a mixture of income ranges into a neighborhood of new single-family homes, townhomes and planned development housing connected by a neighborhood-intensive, pedestrianfriendly network of public transportation (i.e., MARTA stops) and green pathways that invite the use of alternative modes of transportation to work and shopping destinations.
To develop extensive new development that will enhance the baseline property and sales tax revenues from adjacent areas, and to develop a basis for similar revenue growth in the redevelopment area that will benefit the City of Atlanta, Fulton County, the Atlanta Public Schools and the State of Georgia.
To provide the incentives necessary to foster private development and a public-private partnership that is necessary to the redevelopment of land that is difficult to develop because of topographical and stream bed challenges. These incentives will bring new homes, offices, restaurants and shopping, a bank, day care center, hotels, and trails and greenspace into an area of Atlanta in which many of its residents traditionally are underserved by many of the conveniences that others take for granted.
Making It Happen In The Princeton Lakes TAD